Painting From My Place
October 12th – 15th, 2020.
Studio Address
2779 North 3150 West
Brigham City, Utah.
Meet Monday morning at 8:00 my studio, with a 6:00 PM dinner at our home on Sunday the 11th for those who have arrived by then.
Cost is $675/person.
This does not include flight/hotel/ or meals. Possible hotels in the area: Holiday Inn Express, Hampton Inn, Crystal Inn, and Days Inn. Fly into Salt Lake Airport.
To register, fill out the form below.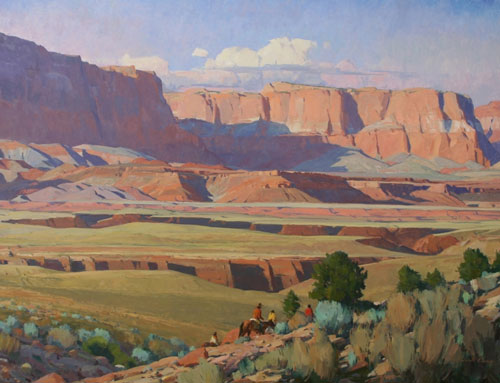 Suggested Materials
Paint
• Winsor & Newton
• Utrecht
• Grumbacher
• Or any good quality you prefer
Brushes
I prefer flat, long hog bristles
Usually sizes 4-10
1. I use sizes #6, #8, and #10
2. I use these for 80% of all my paintings in studio
3. On location I mainly use #4 and #6
Color Suggestions
• Ultra Marine Blue
• Thalo Blue
• Colbalt Blue
• Alizerin Crimson
• Cadmium Yellow- Light, Medium, and Deep
• Cadmium Red – Light and Medium
• Burnt Sienna
• Cadmium Orange
• Sap Green
• Thalo Red Rose
• Titanium White
• Thalo Green Blue (by Grumbacher)
Paper Towels
Viva brand is my favorite
Painting Panels
I Use Clossens linen mounted on Gator board.
For bigger paintings I stretch Linen on stretcher bars.
Cotton canvas, Gessoed panels or linen can be used – It's your preference.
Field studies are painted on 8x10, 9x12, and 11x14, linen mounted on Gator board or simple prepared boards.
Thinner
Odorless Turpenoid out side, Gamsol inside
Please no paper palettes