G. Russell Case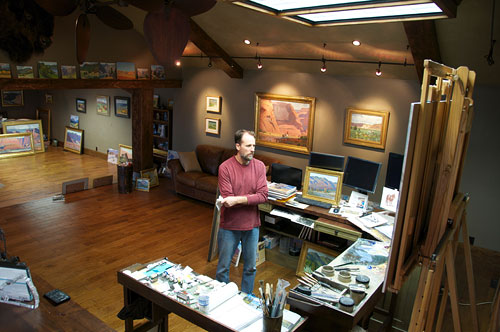 Western painter G. Russell Case is inspired by nature, but he places little value on literal translations. His sweeping, idealized versions of the western landscape are compositions that combine the beauty of the natural world with the rich imagination and originality of an artist's mind. While there is an unmistakable honesty present in his painted environments — stemming from his engagement with the land painted directly from nature — viewers may be reminded of other great artists of the west, whose work is marked by distinctive artistic philosophies. Case's work is unfettered by philosophy and intellect, though he is surely a student of his artistic forebears. The monumental scale of Maynard Dixon, or the unfiltered color and light of Thomas Moran both find their way into his visual language. Yet Case's work is simple, pure, and fresh; his painting draws in the viewer and delivers timeless landscapes. We are immediately transported into a world created by shadow and light, of immense vistas punctuated by jagged mountains and inhabited by lonesome cowboys.
Russell Case's artistic enthusiasm was first fostered by his father, Garry Case, who was also an artist. His father encouraged Russell's artistic talents and helped him seek exposure through marketing and local galleries. For fifteen years the younger Case translated his surroundings into watercolor, creating a foundation for the liquid vibrancy found in his later oils. This transition developed during his college years, where Case studied with the intent to become a professor of art. After graduating from Utah State University in 1990 and with the support of his wife, Susanne, Case decided to dedicate himself to painting full-time. Case's work eventually attracted the attention of a collector Dr. Mike Edson and his wife Karen. Case credits Edson as being a major factor in his success due to his attentive monitoring of the young artist's progress: his vigilant observation, unwavering support, and learned guidance helped develop Case's talent.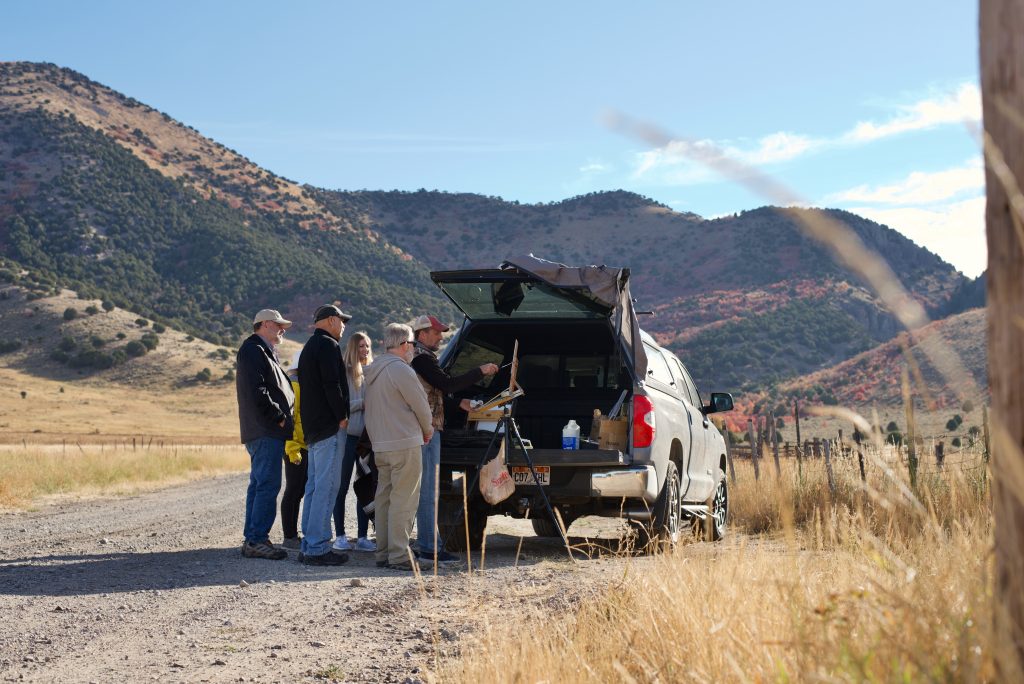 Around the year 2000, fine art dealer Paul Bingham became acquainted with Case. Bingham, a dealer from San Jose who had purchased the estate of Maynard Dixon, developed a friendship and partnership with Case and became his exclusive representation. This launched Case's exposure to the national level, and he began getting attention from collectors and dealers, including a very influential contact gallery owner Jeff Mitchell in Scottsdale, Arizona. With Mitchell's help, Case gained even more exposure, attracting the notice of other galleries, including the Gerald Peters Gallery and Overland Gallery.
Today, Russell's work is represented in galleries including in Jackson, WY; in Salt Lake City, UT; in Mt. Carmel, UT; in Santa Fe, NM; in Scottsdale, AZ, in Ketchum, ID; in Culver City, CA; in Bend, OR; and Crested Butte, CO. Case has also won numerous awards including Best of Show and First Place Oil Painting, Phippen Western Art Show in Prescott, Arizona in 2001; First Place at Southwest Magazine Artist to Watch Show in Steam Boat Springs, Colorado in 2002; Best of Show, People's Choice, and Artist's Choice, Maynard Dixon Country, Mt. Carmel Junction, Utah in 2003; 2004 brought him the Golden Thunderbird Award for Best of Show at the Maynard Dixon Country exhibition. In 2005 Russell won the Edith Hamlin award at the Maynard Dixon Country. Coors Show featured artist 2010; and 2010 Dixie Invitational 3rd Place Oil. In 2012 he was awarded Best of Show at the Coors Western Art Exhibition & Sale. Russell received Artist Choice award at the Coors Show 2015. At the Masters of the American West 2019 Russell won one of Montgomery Frames award. National shows Case is in are the Prix de West in Oklahoma City, OK; Western Visions shows in Jackson, WY; Quest for the West, Indianapolis, IN; and Masters of the American West, Los Angeles, CA.
---
Literature:
Corriel, Michele, Ones to Watch; Spotlighting the works of April Surgent, Matthew Monahan and G. Russell Case. Western Art & Architecture. Premier Issue (Fall 2007). Virginia Campbell, A Simple Plan, Southwest Art (August 2008). Simple Beauty, Western Art Collector (September 2010). Fiesta for the Five Amigos Western Art Collector (October 2010) Small Paintings Western Art Collector (November 2010). Rhythmic patterns Western Art Collector (February 2011). Best of Astoria, Western Art Collector (September 2011); A Visit with G. Russell Case at His Studio in Brigham City, UT (February 2016), Southwest Magazine
Books:
Mitchell Albala, Landscape Painting; pp. 104,105.
Donna L. Poulton and Vern G. Swanson, Painter of Utah's Canyons and Deserts, p. 213,238.
James L. Poulton, Donna Poulton, Painters' of Grand Teton National Park
Permanent Collections:
National Cowboy Hall of Fame, Oklahoma City, OK; Phippen Museum, Prescott, AZ; Springville Museum, UT; Brigham City Museum of Fine Art, Brigham City, Utah; Sear Art Museum at Dixie College, St. George, UT, Northern Arizona Museum, Flagstaff